How many ELD Providers really do more than just an ELD?  How many of these companies understand the industry from the drivers or mechanics perspective?
Electronic Logging Devices are at the forefront of everyone's mind at the moment, this makes it easy to overlook the rest of DTI.  
Yes, Diesel Tech Industries, has spent over 2 years engineering and designing our Electronic Logging Device or ELOG from the ground up.  DTI's Guardian ELOG has been designed as a mobile technology platform that provides comprehensive solutions for all electronic logging needs. 
DTI is so much more! Our humble beginnings are rooted directly in innovation in the trucking and equipment industry.  This practical and unique perspective, gained from drivers and mechanics has allowed for a revolutionary advancement in safety technology.
In January of 2018, government regulations came into effect requiring all diesel engines on highway tanks to be equipped with a positive air shutdown device for the prevention of an engine runaway.
DTI had already been producing a system for more than 10 years before this and was well equipped with a Game Changer.
The Guardian EPASS (Emergency Positive Air Shutdown System) is the answer to the tightening of government regulations and corporate safety policies. Now, these systems are becoming more important to everyone's safety. Check it out here:    https://dtiguardian.com/guardianepass/ 
Throughout the equipment and trucking industries, we have noticed that improper engine terminations, immediate shutdowns or "hot stops" can severely hinder an engine's performance. Without a timed shutdown protocol, engine emission systems risk being flooded with fault codes. Also, in many scenarios, dealers have made it clear to customers that any turbo in need of repair due to operators not allowing the engine to cool down before they killed the engine, would not be covered by the factory warranty.
The
Guardian Turbo Timer
eliminates the need to rely on operators to follow proper shutdown protocols. By ensuring emission systems and turbos are running at optimal operation you can have peace of mind that you are doing everything you can to preserve the health of the engine over the lifespan of your machine.         
https://dtiguardian.com/turbotimer/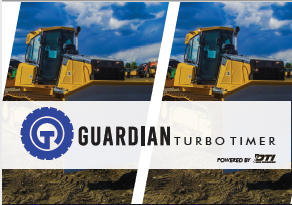 The road is long and DTI will always be along for the ride!