Secure Data 
Your device is backed up on a secure cloud based system, as well as a 14 days worth of data stored on the device. This ensures your data is accessible 24/7 on multiple platforms. 
Stand Alone Tablet 
The Guardian Elog does not rely on using your drivers personal mobile devices. This means not having to worry about device compatibility or permission settings out of your control. Your drivers will be provided with a dedicated tablet designed to work seamlessly with our system
Expert Engineering
The Guardian Elog electronic logging device has been fully designed and engineered by our in-house technical experts. We are working alongside industry leaders with years of practical industry experience. 
Important ELD Requirements
1. The use of ELDs applied to any federally regulated carriers who currently use traditional paper logbooks. Haul loads in excess of 4500 kgs or operate vehicle with a GVW over 11 794 kgs. Provincial and territorial regulators will need to adopt the rules that apply to provincial and interprovincial operations.
2. Commercial vehicle means a vehicle that is a truck, tractor, trailer or any combination of them that has a registered gross vehicle weight in excess of 4500 kg or a bus that is designed and constructed to have designed seating  capacity of more than 10 persons, including the driver. 
3. ELD will automatically record things like driving time, odometer readings, and engine power-up. 
4. Roadside inspectors will be able to ask for an ELD record to be emailed to a supplied address. Your ELD must have an onscreen display to show inspectors at roadside. 
5. Fleet Compliance must have real time access to information.
6. Your ELD must provide GPS tracking and capture drive time automatically. 
Guardian Elog wants this to be a painless transition to a paperless log for your entire fleet. Guardian Elog was designed to be user friendly while still being fleet compliant with the ELD mandate. The device will generate the hours and kms driven. Inspections are faster with reports that are easy to read. The result is completed with perfect accuracy because the mileage is accessed directly from the vehicles computer vs gps approximation.
COMPLETE A REPORT IN JUST A FEW TAPS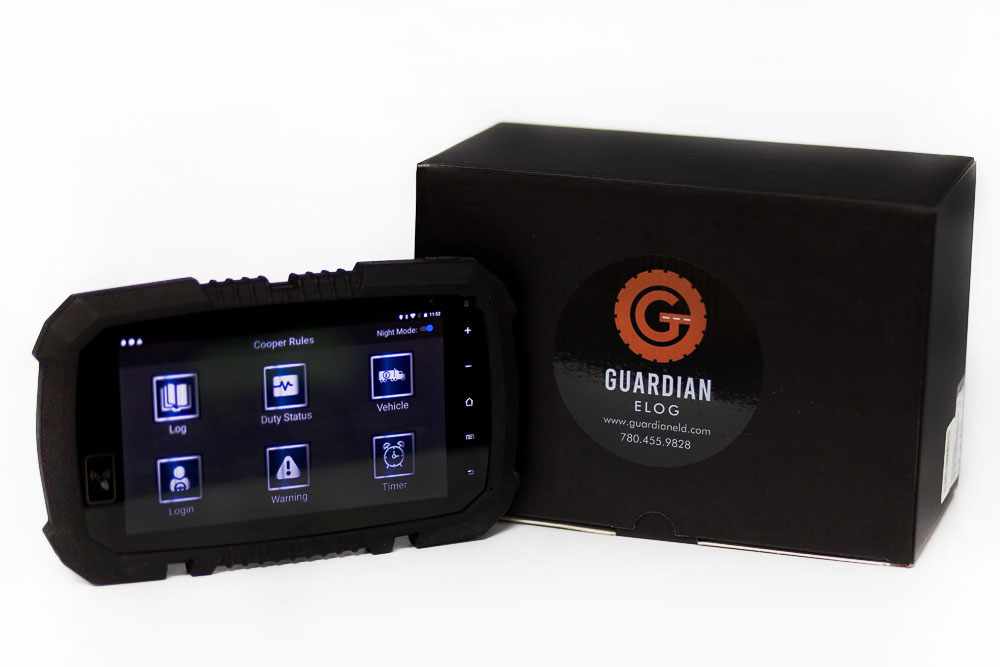 There are pricing options available for any fleet. Any of our dedicated sales specialists will work with you to ensure that we find the right solution for your organization.